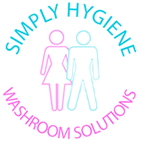 Sanitisers

This wall mounted hand sanitiser unit can be installed anywhere in your business to ensure staff and customers can regularly sanitise their hands - ideally located in high footfall areas such as near entrances and exits of canteens, washrooms or general office areas.

As used in the NHS, our outstanding alcohol free foamer kills 99.9999% of germs and is kind and gentle to your hands. Nilaqua Sanitiser contains the active ingredient Benzalkonium Chloride which is proven effective against the Coronavirus family.

Quadrasan

It is often the case that gents urinals are a constant source of malodour.
Simply Hygiene provides the perfect product to neutralise bad odours, sanitise, descale and prevent organic build-up.
The Quadrasan sanistiser will dose the system to ensure your urinal remains clean, sanitized and odour free.
The Quadrasan sanitiser can also be installed on W.C's and is fully serviced by Simply Hygiene.

Even seemingly clean surfaces can harbour vast numbers of harmful bacteria. A very high percentage of men and women admit they don't sit on a toilet seat. Simply Hygiene provides the safeseat sanitiser. The quick drying spray is effective against harmful bacteria commonly found on toilet fixtures.
The Don Web Services | Simply Hygiene © 2020 all rights reserved | Unit 7 Kirklands Bs Park, Old Mill St, S-O-T, Staffordshire ST4 2RP | links | sitemap